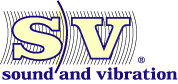 The Sound & Vibration Magazine
---
Good News --- Tech Science Press (TSP) now has ownership of Sound & Vibration magazine , an established and successful publisher of multiple technical journals, will assume ownership and management of the magazine. They have pledged to continue the business model, quality, and integrity exhibited by S&V over the last 51 years. While some changes are inevitable, the new team will provide the same practical engineering articles in the same format on the same monthly basis. The
http://www.sandv.com
website will be continued and expanded. Future contributors are asked to submit their proposals and manuscripts to the TSP online submission system at
http://tspsubmission.com/index.php/sv.
If you want to place your work in the premier issue of the renewed and revitalized S&V, please submit your illustrated manuscript today. For further information please query office@techscience.com .
This website provides free access to the article archives of S&V and high-speed delivery of Internet page views tied directly to products and services advertised in specific issues of S&V. Subscribers to S&V catch the latest news, technical briefs that do not appear in our archives and offerings from S&V advertisers. Many of our readers have retained all the S&V issues that they have ever received. This highlights the depth and importance of the practical engineering editorial content of S&V.
---