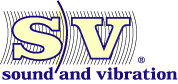 The Noise and Vibration Control Magazine
---
Editor's Note
After 51 years of publishing Sound & Vibration, we are terminating our monthly magazine with
the December 2017 issue. There is no single reason for this decision: advertising sales have almost
dried up, so the magazine cannot be financially supported; the Internet provides unlimited opportunities
for advertisers to effectively promote their products at minimal cost; qualified free circulation continues
to decay with no apparent mechanism to reverse the decline; our small, unqualified, paid circulation
provides negligible support; like the readership, our editorial staff is aging and some have retired; we no
longer receive many news pieces or product releases; and we can no longer see a continuing need to
circulate a printed, practical, engineering magazine covering the noise and vibration control market.
Converting to a bimonthly or quarterly schedule or to digital publication does not solve the basic problems.
So it is with combined sadness and relief that we choose to discontinue publishing

S&V

. We will maintain
our company, Acoustical Publications, Inc., our web site, www.SandV.com, and all other services for an
undetermined period. We greatly appreciate the support that we have received from advertisers and readers
over these many years. It has been an honor and privilege to have been the prime communications media for
the noise and vibration control community for 51 years.
Jack Mowry
Editor and Publisher
---
Sound & Vibration

is a B2B (business-to-business) brand intended for individuals with broad-
based interests in noise and vibration control, dynamic measurements, structural analysis, computer-
aided engineering, machinery reliability and dynamic testing. The brand content and editorial scope
of the publication includes practical engineering articles tied to the featured topic of each issue, show
issues connected to selected engineering conferences, industry news, product-oriented buyer's guides
and new product information.

This website provides free access to the article archives of S&V and high-speed delivery of
Internet page views tied directly to products and services advertised in specific issues of S&V.
Subscribers to S&V catch the latest news, technical briefs that do not appear in our archives and
offerings from S&V advertisers. We do not have a digital edition, so you need to receive the print
copy to stay up to date. Many of our readers have retained all the S&V issues that they have ever
received. This highlights the depth and importance of the practical engineering editorial content of S&V.
Copyright © 2017 Sound & Vibration Magazine