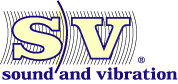 The Noise and Vibration Control Magazine
---
Upcoming shows and events...
IMAC XXXII, 32nd International Modal Analysis Conference
February 3 - 6, 2014
Orlando, Florida
http://www.sem.org/conf-imac-top.asp
Sponsored by the Society for Experimental Mechanics (SEM)
ESTECH 2014
IEST 60th Annual Meeting
May 13 - 16, 2014
Grand Hyatt Hotel
San Antonio, Texas
http://www.iest.org/Meetings/ESTECH/Call-for-Presentations
Sponsored by the Institute of Environmental Sciences and Technology

---
Sound and Vibration is a practical engineering magazine covering the areas of:
Noise and vibration control

Dynamic measurements

Structural analysis

Computer-aided engineering

Machinery reliability

Dynamic testing
S&V is circulated monthly to individually qualified personnel who are concerned with noise and vibration control, automotive NVH, dynamic measurements, modal analysis, machinery reliability, acoustical engineering and dynamic testing. Qualified individuals perform: design engineering, testing and evaluation, management, research and development, consulting and engineering services, equipment reliability/PM/PdM, occupational safety and health, and other functions related to the fields served.
This website provides free access to the article archives of S&V and hi-speed delivery of Internet page views tied directly to products and services advertised in S&V. Subscribers to S&V catch the latest news, technical briefs that do not appear in our archives and offerings from S&V advertisers. We do not have a digital edition so you need to receive the print copy to stay up-to-date. Many of our readers have retained all the S&V issues that they have ever received. This highlights the depth and importance of the practical engineering editorial content of S&V.